Support MCB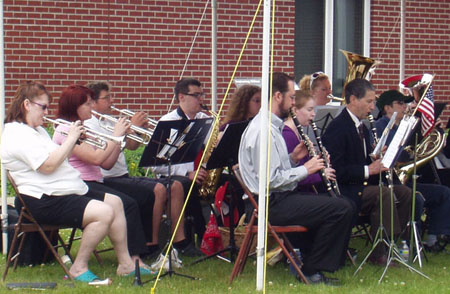 Performances by the Milton Community Band are generally open to the public with free admission. Donations and in-kind support for the Band's operations, including rehearsals, concerts, and the purchase of music and equipment, will be cheerfully accepted. Please contact us if you would like to contribute in any way.
Click on the button below to donate securely online.
We gratefully acknowledge the following individuals, organizations and businesses for their support.
Individuals:
Individuals
Anonymous
Randy Argraves
Mary Bauer
Audrey Bell
Ginny Bessette
Ron Bevins
Ruth Blauwiekel
Michael Boisjoli (sponsor)
Eric Bushey
Kate Cadreact
Steve Clark
Amanda Collins
Courtney Collins
Emily Desautels
Ed Devarney
Harjit Dhaliwal
Deborah Dolby
Kym Duchesneau
Timothy Foley
Catherine Gibson
Phil Gibson
Sylvie Henning
Brian Hoover
Jim and Mary Jane Huneycutt
Jeff Lawliss
John Lindsay
Pat Lindsay
Dale Long
Kevin Loomis
John Luce
Alisa Martin
Madeline W. Martin
Bruce McRae
George McRae
Gisele McRae
Phil Mears
Katrina Meyers
Betty Moser
Dave Myers
Katherine O'Donnell
Kelly Oliven
Bill and Gail Orr
Helen Read
Julie Rutz
Adam Sawyer
Ivan Schaffner
Lorraine Simays
George Slusser
Larry Solt
Tammy Sweet
D. Thomas Toner
Carroll Wood
Businesses and Organizations
A-1 Printing
Ace Hardware
American Legion Post #57 (sponsor)
Apple Island Resort
Arrowhead Eagles
Arrowhead Senior Center
Avalon Pools and Spa
Burlington Concert Band
Century 21 Jack Associates
Champlain Valley Exposition
Chittenden Bank
Colchester Community Chorus
Colchester-Milton Rotary
Cornerstone Community Church
Cyr Lumber
Eagles' Arrowhead Aerie #4218
Ellis Music
Fairfax Community Library
Fairfax Fletcher Westford Band
FootWorks Studio of Dance (sponsor)
Friends of Colchester Music
Frey Family Deli & Convenience
Georgia Farmhouse Restaurant
Hair and Nail Express
Hannaford's Supermarkets
Inseldudler
Key Bank
Lake Champlain Access Television
Lone Pine Campsites
McRae Trucking
Milton Beverage Warehouse & Peg's Grill (sponsor)
Milton Business Association
Milton Diner
Milton Firefighters Association (sponsor)
Milton Historical Society
Milton Independent
Milton Rental and Sales Center
Milton School District
Milton Veterinary Hospital
Milton Women's Club
McRae Towing & Auto Services
Oliver Seed Company
Pillsbury Senior Communities
Premier Tire and Automotive Inc.
The Residence at Shelburne Bay (sponsor)
Rowley Fuels and Storage
Sandbar State Park
St. Albans Chamber of Commerce
Shelburne Museum
TD BankNorth
Town of Milton Recreation Department
United Church of Milton
University of Vermont Music Department
Vermont Federal Credit Union
Waterbury Community Band
Williston Community Band
Williston Woods Activity Board
Williston Woods community members (sponsor)
And, members of the Milton Community Band, past and present